I have not had good luck raising Sarracenia from seed yet. It seems after 2 years, I lose them, to what I do not know. I have good luck the first two years, then for whatever reason, they don't make it through the second winter. I guess I baby them the first winter, but treat them like mature plants the second, which apparently is the wrong way to go about it. At least I've learned, and hopefully my large crop of 2 year-olds survives. Actually, they have all survived this winter and are beginning to grow now. It probably helps that my wife is in charge of a brand-new greenhouse where she works, and she's cool with me putting my own plants in there, which is where they are now. Anyway, I've had some potentially nice-looking plants that are now compost over the past few years. Here are/were some of my favorites:
This was from some wild-collected S. x moorei seeds, from Walton Co., FL. I believe I got them from Brooks Garcia, but I can't remember for sure. It sure was a vigorous grower and probably would've been a giant, had it lived.
This was 'Citronelli' x (flava x psittacina). Not the greatest looking plant, but it looks like it would've had a unique shape, heavily influenced by the flava x psitt parent. 'Citronelli' is an unregistered name to a leuco x alata x rubra natural hybrid.
I was especially bummed over losing this one, it was (alata x flava) x (leucophylla x purpurea). It looked a lot like the alata x flava parent in the coloration, with a bit of the shape being influenced by the purp x leuco parent. Here's another photo:
And another...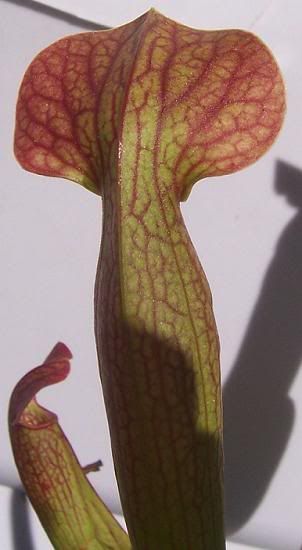 Here's another that really ticks me off when I see it. A very strongly colored (alata x leucophylla) x [psittacina x (purpurea x minor)]. Even at 1 year old, I could tell this one was going to be special. Here's 2 pics of it: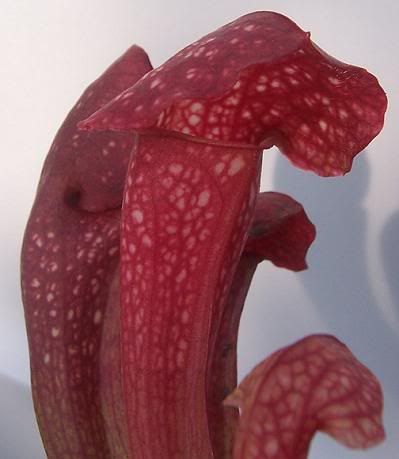 The following plant was from the first batch of seeds I ever raised, from mixed hybrid seed from the ICPS. I had literally a hundred of them in a pot that all germinated. At one point, something happened that killed them all off except this one. I actually think they were eaten by something, if memory serves me correctly. No idea what it could've been, but I see traits of purpurea, flava and leucophylla in it: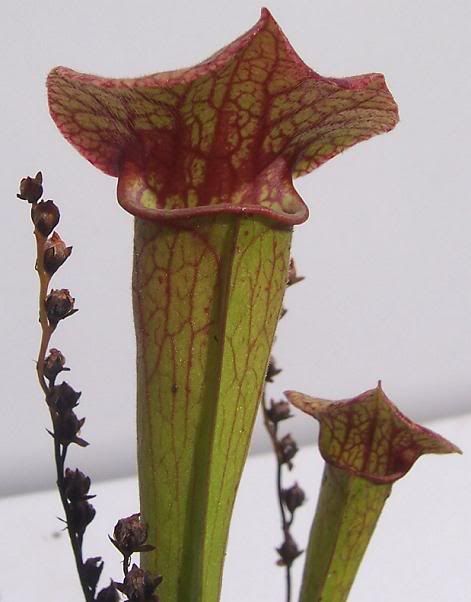 Here's yet another that I get ticked off about. Another cross I did, this one was 'Extreme Unction' x 'Ladies In Waiting', and seemed to show a perfect blend of the two parents: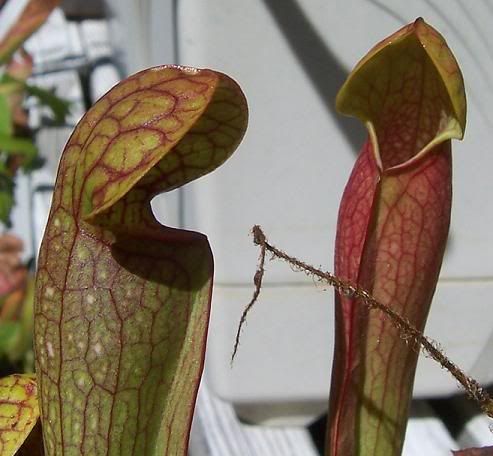 I have a few more that I can't seem to locate the pictures right now, but when I do, I will post them.